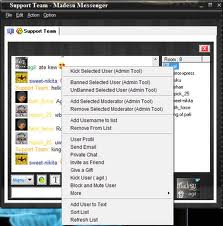 New Features:
----------------
* Admin / Moderator Tools
* Auto Kick / Auto Banned (just Type A Part Of Multy Name. When They Enter Will Be Kicked Automaticly)
* Font Style And Size On Chat Box. Arial And Times New Roman.
* Auto Answer On Online Presence. You Can Turn It Off And Turn It On When You Set Online Presence.
[You must be registered and logged in to see this link.]
aplikasi ini harus beserta file suport untuk register download di
[You must be registered and logged in to see this link.]